In our family, a dress is more than a dress—it marks a special moment of childhood happiness. A swimsuit captures a summer's worth of joy. A backpack carries a school year of promises. We pay attention to every little detail because we know everyday items tell a story, and we want ours to stand the test of time.
Our Story
From the beginning, our purpose has always been to savor everyday moments. After I had my second child, I began making my daughter's clothes as a creative outlet, a way to stay home with them, and to earn a bit of extra income. Lots of creativity and love went into each piece and soon my small hobby became a growing business, thanks to all of you. Even the name SweetHoney got its start at home, inspired by a nickname my first daughter gave her little sister.
Holly
Ten years later, our team has welcomed additional designers, artists, shippers, and brand managers. We're a tight-knit family-centered company that lives for its community. With the same meticulous attention to detail as always, we dream up timeless designs that resonate joy and childhood innocence.
What Our Customers Are Saying...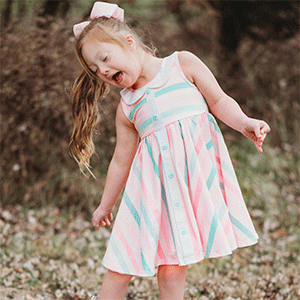 My daughter is already obsessed with this dress! The colors are so beautiful I don't think the pictures do it justice. Can't wait for spring!
Heather T.
I bought these on sale in a few sizes for my little girl last year and I'm so sad I didn't buy more! She is very particular about what she'll wear and she loves these. These are by far her favorite shoes and have held up through much heavier use than this type of shoe should go through...
Jennifer C.
I am in love with this bag and so is my toddler! It's her first year of preschool and she thought this was the coolest thing she's ever seen! Love that it's washable also.
Emily M.